Welcome Makers – It's almost here!
Thank you for joining us at the 12th annual Nova Scotia Art & Craft Show on November 3 & 4, 2023. We are dedicated to making this an enjoyable and prosperous weekend for everyone.
Location: Cedar Event Centre, 111 Clayton Park Drive, Halifax. Enter the parking lot from Clayton Park Drive. (See below for building layout photos, interactive map and directions).
CEDAR CENTRE RULES – IMPORTANT
Cedar Event Centre is a smoke-free facility. No smoking, vaping, or cannabis is permitted inside, or within 10 meters outside of the main (front) entrance to the Centre, or within 5 meters of the back doors of the Centre.
No open flames, including lit candles, are allowed at the Cedar Event Centre due to fire code regulations. Please use battery-operated candles and alternatives for any items involving open flames, such as food stations.
The Centre reserves the right to remove any guests that are exhibiting inappropriate behaviour, which includes smoking and unauthorized entry into the Church or areas of the Center that have not been rented.
The use of helium balloons, confetti, duct tape, thumbtacks, nails, staples, 3M hooks, etc is prohibited. You may NOT attach anything to the walls of the Center by any means.
At the end of the show all garbage/recyclables/compost must be taken out to the bins on the North side of the building. (Please help us to not be charged an additional cleaning fee by ensuring that all trash is disposed of properly.)
Check in Procedure: Set up times are listed below. When you arrive to set up you will need to check in. You will find the check in area in the foyer. During set up we will be able to have both the front and rear doors open. During the show only the front doors will be used. (See image below). Once you have checked in, you can begin unloading and set up.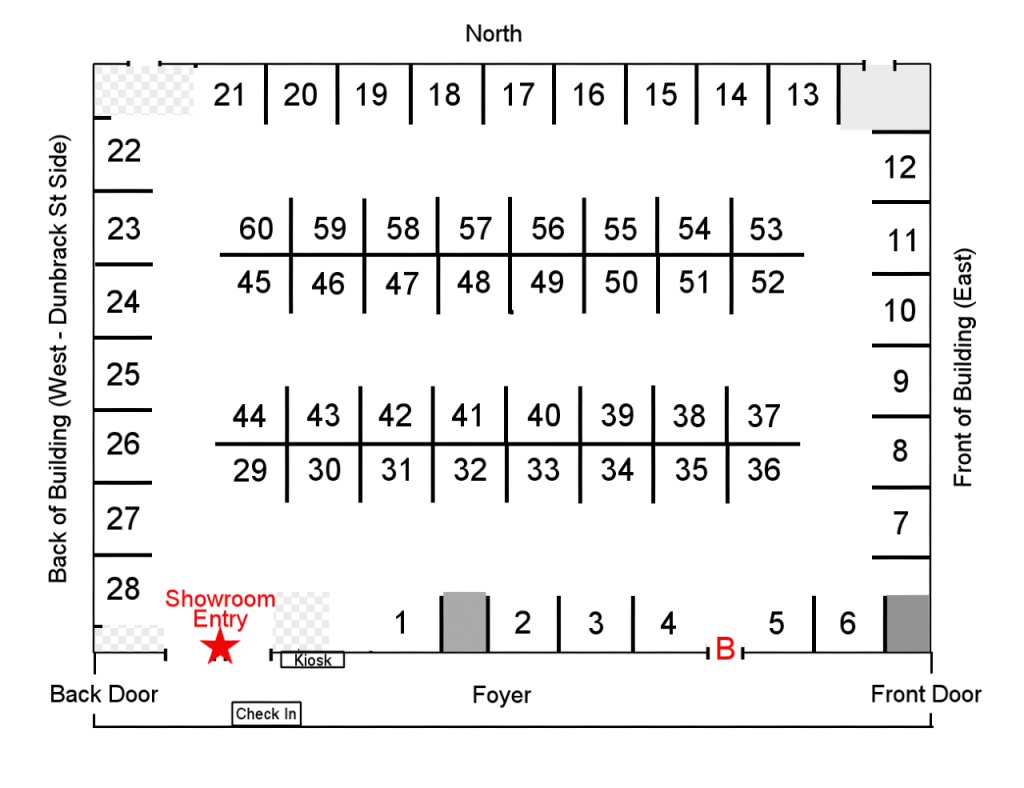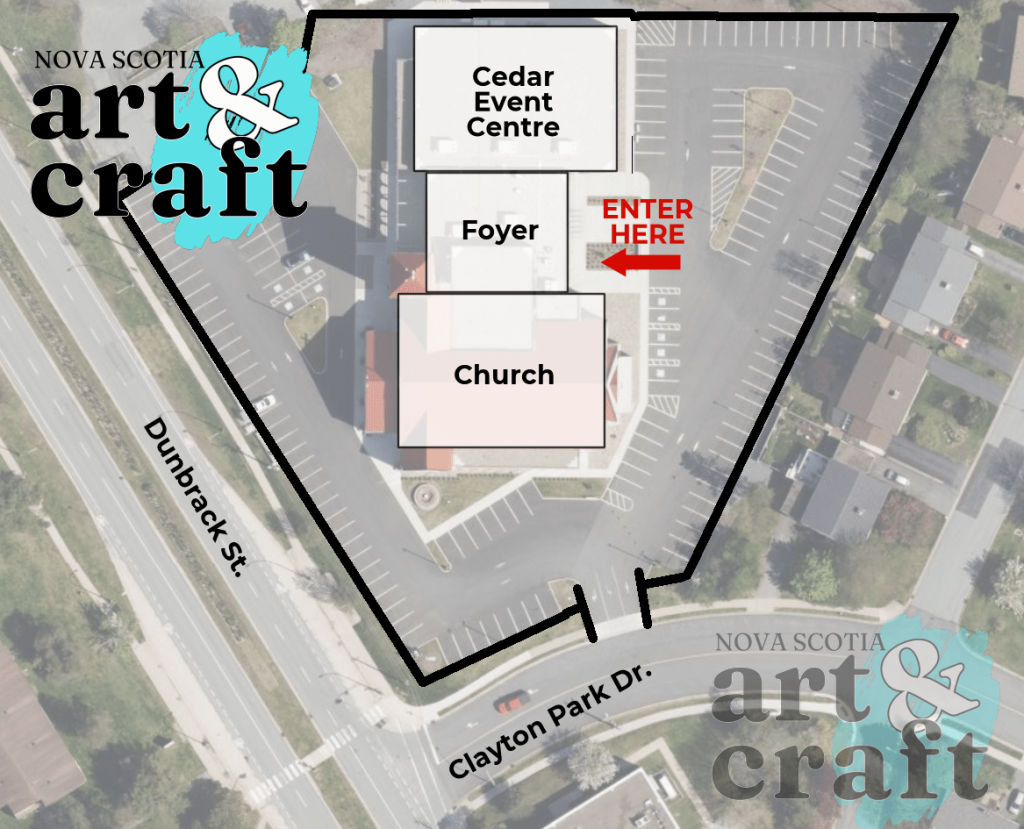 Setup time and Exhibitor Access: Set up is Thursday 4pm – 8pm and Friday 8:00 am – 9:45 am. All artisans must be set up and ready by 9:45 am. Saturday Access: Exhibitors can access the showroom at 9am.
Shopping Hours: Friday: 10AM- 5 PM and Saturday: 10AM – 4 PM.
Meeting: There will be an exhibitor meeting on FRIDAY morning at 9:45am near the showroom entry doors. It will be very brief but important as we will be explaining how the shopping vouchers work so you will know what to do if presented with a voucher.
​Space Assignments: Space numbers will be provided at check in. We will have a copy of the above map for you to easily locate your space. Please note that space numbers are not provided in advance of the show due to potential last-minute adjustments that may be necessary. If you have forgotten what type of space you have reserved please check your invoice/receipt as it is listed there.
SET UP REMINDERS
Table Covers: All tables must be draped to within 2 inches of the floor any stored items underneath must be hidden from view & your space kept tidy at all times.
Tables: Your table will be prepared in your designated space upon your arrival, unless you specifically requested us to keep your space empty. If you have requested an additional table, it will also be placed in your assigned area. If you are unsure what you requested, kindly refer to your original invoice where this information is outlined.
Drapes: Some areas will have pipe and drape behind them, there is to be nothing attached to these. Nothing may be pinned to the drape. If you cause any damage to these you will be responsible for paying any damage fee we are charged.
Electricity: If you've registered for a booth with electrical access, please remember to bring your own extension cord. If you're uncertain about whether you've requested a space with electrical access, kindly check your original invoice it will show electric was requested if you did so.
Space: Be mindful not to place items/stands/shelves in walkways or in front of exits. You have been allocated an 8 x 10 foot space; we encourage you to maximize its potential. Make every effort to utilize your space effectively, creating an enticing display to attract buyers. If you typically only use a single table, think about adding a supplementary small table for the side or introducing a floor-standing sign or other booth decorations to elevate your setup.
As our newer exhibitors advance on their journey, they will gain a deeper understanding of the importance of visual appeal of their set up. To get started, here are the fundamentals to keep in mind: Aesthetics play a pivotal role in marketing. Captivating people's attention and piquing their interest in your products commences with the visual appeal of your setup. Please, make an effort to keep packing materials, boxes, and similar items concealed from view. Consider your booth as a miniature shop, and remember that the way you showcase your merchandise reflects your commitment to the quality and value of your craft.
Courtesy Unloading: Unload your vehicle and then move it away from the door before you set up your space. Other people need to get unloaded too. For unloading, you may enter either from the front or from the rear of the building. The rear doors will only be used during set up and take down, not during the show.
Parking: After unloading and during the show hours please park at the farthest edges of the lot on the Dunbrack St side of the building. (See image above). We want to leave as much space as possible closer to the building for shoppers to park.
CLOSE OF SHOW
Packing Up – Saturday: Booths must remain open and staffed until the close of the show on both days. Pack out can begin Saturday at 4:01 pm. Leaving early will make you ineligible for future shows. Our show hours are carefully considered and not overdrawn. Shoppers expect to be able to shop until close. We will announce the close of the show on both days.
OTHER INFORMATION
Food and Drink: Chef Hady from Ray's Lebanese Cuisine will be the caterer for the weekend. He'll be providing a mix of Lebanese and Canadian dishes, as well as drinks including tea and coffee for purchase. The Halifax West Ecumenical Food Bank in Fairview will receive a percent of the sales. You are of course also welcome to bring your own food and drink to the show.
Bathrooms: The bathrooms are located off the foyer. There is a second door to the showroom which customers are not using, but exhibitors may use to quickly access the bathrooms which are located opposite. (Door is indicated by B on image above).
Security: You may leave your items set up overnight Friday. The building has 24 hour security and cameras. However for legal reasons we must remind you that you do so at your own risk and the Cedar Event Center and NS Art & Craft Show Society are not liable for any loss.
Insurance: We've partnered with Duuo Insurance to offer Nova Scotia Art and Craft Show vendors affordable short-term insurance coverage should you wish to secure cover. Single day coverage begins at just $13. Get set-up in minutes – Click here.
Wireless Internet Access: The Cedar Center provides free WIFI. A password is required but will not be available to us until check in. Please ask us for the password if you need access. However as we have no control over this service we cannot guarantee that it will be available or that you will be able to connect to it. You are responsible for your own devices and making the necessary connection to the WIFI.
ATM: There is NOT an onsite ATM machine at the Cedar Centre. However, there are 3 banks with ATM's just down the road on Lacewood drive.
MAP & DIRECTIONS
For Interactive Map and Directions: Link to Bing Map | Link to Google Map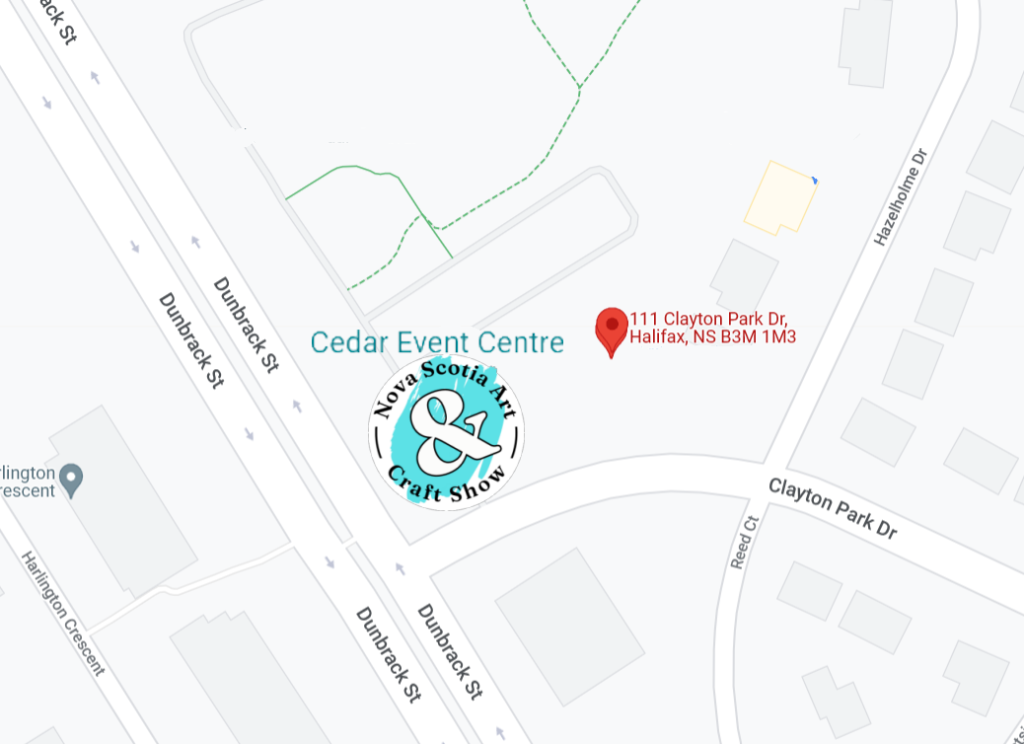 CONTACT
On Thursday Nov 2nd I will not be available during the day as I will be busy setting up the room for the show. Please check the show rules and FAQ section of the website as many questions will be answered there. If you still have questions please email and I will reply as soon as possible, but please expect this may be late in the evening before you get a response.
MARKETING AND PROMOTION
Please continue to like, share, comment and promote the show on your own social media accounts, if you use social media. Details of how to help promote the show via your socials was provided in the previous email sent a couple of weeks ago.